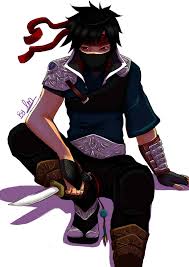 Name
: Keiji Nara    
Nickname
: The Dark Knight    
Clan
: Nara Clan    
Birth Day
: 08/19    
Current Location
: Kita    
Age
: 18    
Weight
: 186    
Height
: 5'9    
General Appearance
: Keiji much like most of his clan , has the distinct characteristics of their ancestors. His hair has a medium length , were he is able to make a pony-tail out of his hair. His hair is a silk black that vanishes in the night time giving him somewhat an advantage in dark places. His eyes show an intimidating black , seeing as not many can stare him in the eyes without showing some sort of fear. There wasn't any kind of past that caused him to give this frightful look it was just how he was since birth a symbol of fear. It wasn't that he didn't have friends he could be joyful and show a smile when the time was right other than that his face displayed a poke face not allowing much emotion to show unless it was traumatic enough. That said Keija came to about 5 feet and 9 inches , and weighted 186 pounds . His body was toned , seeing as if he was shirtless he would show a six pack and the names of his parents on both sides of his chest tattooed. On his wrist he had his ninja creed tattooed " Justice will be served , as-long as I'm the Light.". He had a scar under his lip from a previous battle with an enemy he almost lost his life to , it comes from his bottom lip to his chin missing his neck by just a few inches. He carries a short katana blade with him , which allows him quick and close combat battles. His ears present a point arc shape similar to mythical elves from folk stories , as his side burns come just below the top of his ear not extending much . At his age he doesn't have any signs of facial hair conducting a smooth face all around , as for his other body parts don't display signs of hair neither. At times his eyes twitch on the account of irritation or strong winds drying out his eyes.    
Speech Patterns
: "Leave it to Me" , "Get out of my way" , "Welcome to Darkness"    
Habits
:
- Tends to be attracted to small things
- Has the habit to keep the battle at Mid-Range    
Illnesses
:
- No Illness as of yet.    
Ethical Axis
:
- Neutral    
Moral Axis
:
-Good    
General Personality
: Keiji is self kept , his mind is always wondering of different possibilities but tends not to show it because he believes the worrying of others will effect their emotions in real conflict. He's the observer his intelligence lives up to the Nara clans name as his strategist like actions becomes the trump card they desire in situations. Relying on others isn't his first resort because decisions like that usually have a certain life or death feeling lingering around it and he would be damned to lose his life by entrusting someone else. When he conducts combat his main mission isn't actually to kill the enemy off the bat unless he knows their power difference and there isn't any other way. Other than that he creates opportunities to wound or capture his enemy to gather Intel. He doesn't have the asshole mentality when it comes to "Only the strong survive and the weak die" , he believes " Those who kill the weak are weak themselves. And Those who kill evil are god's walking judgement".    
General Opinion
: Keiji's general opinion on those he never met before is always on edge. He won't technically show his true emotion towards a new comer but in his mind he's constantly analyzing their strength , speed , & how to escape.      
Mother
: Yao Nara    
Father
: Ikarui Densha    
Birth Location
: Kita    
Story
: The tale of Keiji Nara , the ninja born of members of separate villages, his father Ikarui Densha from the Kita and his mother Yao Nara from the Minata. His parents were talented ninja in their day seeing as the Kita and Minami held a good relationship , especially during war times. It was on a joint operation that the two had did the deed in-case they didn't return as they were out numbered by other shinobi. The result of that story was that they did survive , allowing them to briefly cease operations as shinobi in order to raise the next generation. His father would move to the hidden lead with open arms by the Nara the shadow clan his mother resided from. The birth of Keiji was special to them , and his potential from their bloodline was even more expected. Growing up Keiji's growth had shown he was more than capable of displaying his clan Hiden. His control over shadows proved his was a valued assets to the village and clan. Not only did his genes take interest in his mothers blood line but also he took key components from his father's as well. He was given to chakra natures , one that allowed him control over shadows and one of lightning. He was able to perform multiple different jutsu's from both natures by time he became a genin. During his few missions , his squad had rose over adversity by almost losing their lives at one point. They were tasked into protecting an important political figure , were as their opponents were experienced in combat allowing them to be over powered quite easily. . Against odds Keiji was able to unless a spider-web of lightning on the ground causing the clones to disappear leaving the stunned shinobi to his team mates. His defeat in the mission caused a change in his personality triggering himself over others , not allowing his foolish judgement cause the life of others.